Margaret
It does give me pleasure to confirm with you how our Freedom Securities business is performing. As you know, we purchased our business from you in February 2008. Because of being completely different to what we have been used to, initially we were very hesitant, but with your guidance and follow-up assistance, we have made a very successful business out of your software.
Your daily assistance with the Selection Sheets etc. is very beneficial for us as we can monitor and compare our earnings to what you are doing.
We like the freedom this business gives us and are very happy with our purchase. We are looking forward to many years of working with you and having a very bright and prosperous future.
Kindest regards,
Margaret
(Burpengary Qld 4505)
15th May 2011
Bob
I am contacting you with an update of how our Freedom Securities Program is performing.
We have been operating this business for nearly 10 years and would like to thank you again for introducing us to this business.  It is still performing beyond our expectations and continues to provide my family with an excellent regular income.  As you are aware we have suffered some health problems, which restricts our normal work prospects.  This business has provided us with the flexibility of not being tied to set working hours and allows us to operate the business to suit us.  Our Freedom Securities business is still showing an excellent income over the period we have operated the business.
We would like to thank you Graham for providing us with regular updates on the business.  We have found your continued support very helpful.  We have found that by setting a Daily Profit Target and stopping when this Target is reached as you have recommended, has certainly helped with the success of our business.  Another thing we have found with our Freedom Business is that economic climate has no effect on it.
We look forward to a long and continued success with our Freedom Securities business.
Regards
Bob
Currabubula, NSW 2342
16th June 2012
Fabian
After having looked and bought a number of what looked like "systems" that Ended up being nothing more than hit -and -miss schemes, I was very pleased and relieved to finally find an actual system, that has rules to follow and are easy to follow and understand also; I have found Clive to be extremely helpful and patient with my Many questions and look forward to using this awesome system to Help me achieve the lifestyle I've Been looking for. Highly recommend it...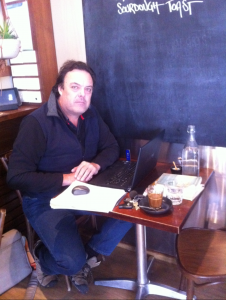 Fabian Cabello
Melbourne
27th September 2016
HJ
I purchased a Freedom Securities System in early 2000.  Due to business commitments, I was unable to make full use of the program.  I recently retired, and have started using the updated versions.  The program is now extremely "user friendly".  And has been quite rewarding.
H.J.
Noosa
30th May 2001