Clive Gannon has managed several large companies around Australia and overseas as Marketing Director/ Managing Director and Chief Executive. These Companies included; Polaroid, Vogue magazine, Paul Hamlyn Group, Summit Records, Fletcher Fotographics and the Sunshine Plantation (Big Pineapple).
He graduated from the Harvard Business School USA in 1976 and has over 40 years of Negotiating, Marketing and selling expertise. His area of specialization has always been in the Marketing and Selling area.
Clive has been married for since 1987 and has fathered 5 children. Arriving in Queensland in 1992 with a view to semi-retire it wasn't long before with his wife Veronika they purchased a small business and ran it successfully for 8 years. In 1996 along with a partner he negotiated the purchase of the Sunshine Plantation (Big Pineapple) from News Limited, and was appointed as the Managing Director later that year. He managed that Business successfully until 2001.
In 2001, he started his own Real estate and Business Sales Brokerage (Gannon Realty), selling Property and small to medium sized Businesses in Queensland. It was during his Business selling activities that he was introduced to a client who was looking to appoint a Sales and Marketing Agent to Market and Sell his Business that he had successfully operated over the past 20 years, namely Freedom Securities.
This Client, who had previously been involved in the aviation Industry and had a adept mathematical and analytical background, had painstakingly developed over a 20 year period, a unique and easy to use, specially developed Soft Programme that invested money in the Thoroughbred Racing Industry. The programme works on the statistical probability. Clive's first reaction was this must be some kind of Scam, thoughts of the white shoe brigade on Gold Coast came to mind that pedal this kind of Business. How could this be true?
But after the first demonstration he was hooked, so much so that his Son Bradley outlaid the asking price and purchased the complete Software Programme. After witnessing Bradley's success, he took on the Exclusive Selling Agency and now consequently there are several clients, who have purchased the Software Programme Predominately in South East Queensland and more recently in Interstate, who are now enjoying a relaxed lifestyle and consistent profits that this system provides.
It was the success of these clients that convinced him that this Software Programme was a winner and in June 2016, he purchased the Software Programme outright from the original owner who wanted to retire and travel around Australia. The software was then updated to a digital format, making it easier to operate.
With this background in mind, Clive will be Marketing and Selling the Licence to operate the Software Programme in Australia, New Zealand and Internationally.
Clive has said that "without a doubt the most exciting Business concept I have seen in my entire 50 year business life".
Where else can you get all this for $49,500?
Consider these advantages.....
Complete turnkey business
Home Based.
No Staff.
Use your own computer.
Part-time or Full-time, day or night.
Good Profits – can be over $100,000 per annum.
Daily Cash Flow.
Only basic computer skills required.
Portable – work from anywhere with Internet access.
Free viewing prior to trial.
28-day trial and training prior to purchase.
Daily instructions and comparison of previous day's trading.
Ongoing upgrades, when available.
Established 1996 with many years trading results available.
This can be a stand-alone business or used as an additional form of income alongside an existing business.
Depending on use, an operator can expect to earn from $500 per day to $2,000 per day, which is not bad for an investment of just $49,500?
Other Benefits Include
You do 

NOT

 have weekly staff to pay, expensive rent with a committed lease that goes on and on, advertising and other normal business expenses.
There are 

NO

 travelling costs involved if as you work from home or anywhere else that suits you!
You are unrestricted as to 

WHEN

 and 

HOW OFTEN

 you work. You have 

SEVEN

 days and nights from which to choose.
The best part is knowing where you are financially at the end of each Day?
If you need to know more just call or email Clive now!
Phone: Clive - 614 0282 5262           Brad - 614 0453 4296
Email: clive@freedomsecurities.com or brad@freedomsecurities.com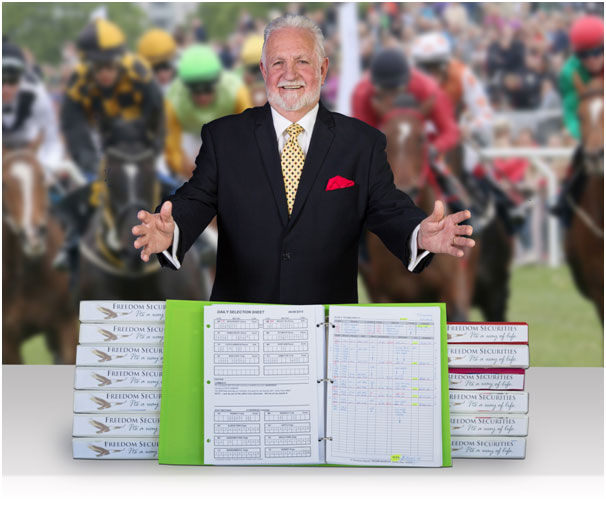 Clive Gannon Director Freedom Securities, standing with years of Daily hand written results of the Freedom Software Programme that shows consistent winning outcomes.
Why not come and take a look for yourself at anytime that suits?
We have had Clients from as far as Victoria / Western Australia visit us to see the records and then purchase the Software.
These results are available at any time for inspection!